It's the time of year when home maintenance and spring cleaning chores are on everyone's minds. If you're a first time homeowner, or even someone who's built up their home for years, the maintenance tasks can sometimes seem like an overwhelming responsibility. A great way to get your to-do list in order is to break things down throughout the year and make sure you're working on the upkeep that fits each season.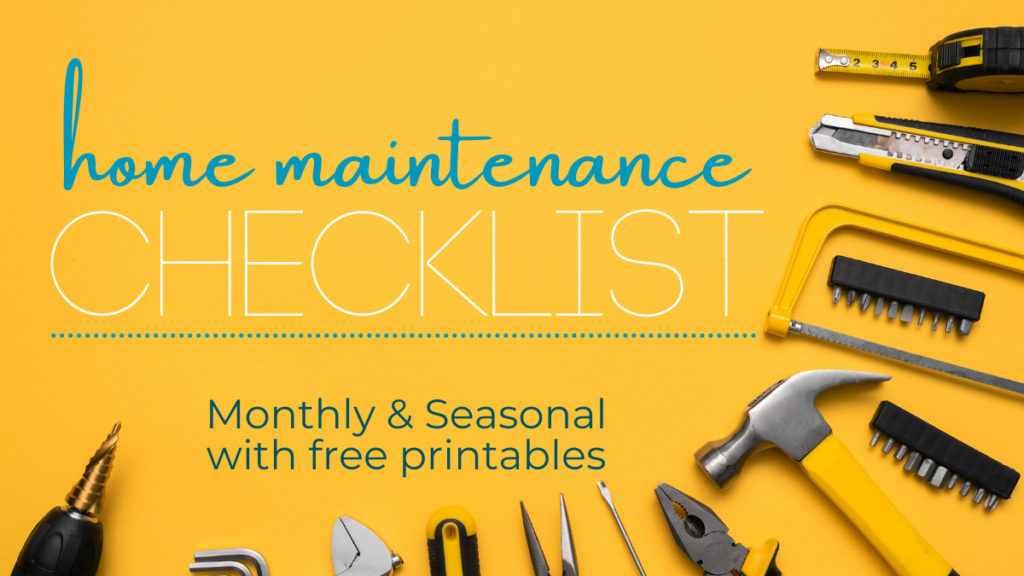 We wanted to make a handy guide for some of the things that should be a part of your regular home maintenance. It's important to note that this list isn't exhaustive, because each home can have it's own needs and ultimately, you know your home best. But we hope this is a good starting point to get you going! Feel free to read through or head to the bottom of the page to go ahead and download our free printable checklist.
Monthly Checklist
While some home chores are best on seasonal rotation, especially those that are crucially weather dependent, many are things that should be done at least once a month. You'll find that in our downloadable checklist, we give you the option to check off each month you complete the task, so you can keep consistent records, which can be helpful when speaking to service technicians. Check out our recommendations for your monthly to-dos.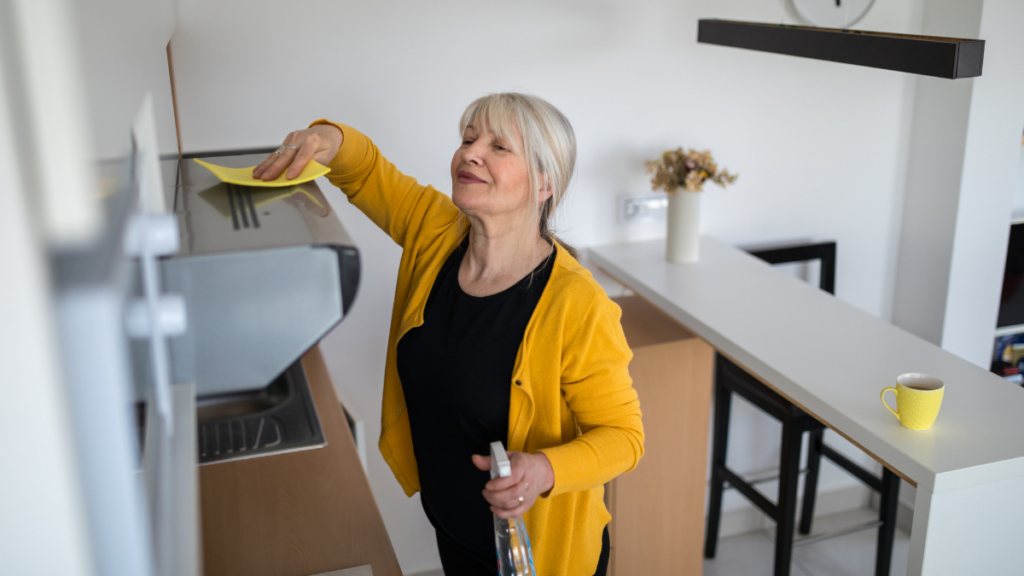 Inspect Air Vents for Blockage
Clean Heat Registers
Clean or Replace HVAC Filters
Clean or Replace Furnace Filters
Check Water Softener
Flush Water from Water Heater
Inspect Drains for Clogs or Leaks
Clean Mineral Deposits from Showerheads
Clean Garbage Disposal
Clean Kitchen Vent Hood & Filter
Check Fire Extinguishers
Test Carbon Monoxide Detectors
Inspect Electrical Cords & Equipment for Wear
Check Home Exterior for Foundation Issues
Check Trees for Potential Damage
Spring Checklist
There's lots to get done during the spring! In addition to welcoming in the good weather, many of the maintenance jobs are to check over any potential damage left behind from the cold.
Clean Screens on Windows and Doors
Vacuum Lint from Dryer Vent
Change Air-Conditioner Filter
Polish Wood Furniture
Inspect & Clean Interior Light Fixtures
Inspect Caulking in Bathrooms
Check Weather Stripping on Doors & Windows
Check Outdoor Faucets & Sprinklers
Power-Wash Windows & Siding
Inspect Roof & Chimney
Professional Inspection of Septic System
Clean & Check Gutters
Check & Replace Batteries in Detectors
Have Air-Conditioning System Serviced
Drain or Flush Water Heater
Fertilize Lawn
Summer Checklist
During the summer, it's important to make sure you're inspecting different appliances and structural elements of your home. Being prepared to tackle any repairs before they break will be especially helpful before the weather really heats up.
Check Dishwasher for Leaks
Inspect & Clean Refrigerator Coils & Drip Trays
Clean Kitchen Exhaust Fan Filter
Check Kitchen Cabinets & Plumbing for Leaks
Check Bathroom Cabinets & Plumbing for Leaks
Seal Tile Grout
Reverse Ceiling Fan
Clean Garage
Oil and Inspect Door Hinges
Inspect Garage Door
Inspect Interior Faucets & Showerheads
Inspect Exterior Faucets
Prune Trees & Bushes
Remove and Prevent Weeds
Inspect Dryer Hoses
Inspect Sprinklers
Fall Checklist
The fall can almost feel like a second spring (especially in Richmond) and it's a perfect time to do the home maintenance required to prepare your home for winter. The inspections and repairs you do in this season will help prevent potentially dangerous home issues during the winter.
Clean Fireplace & Check for Damage
Have a Professional Inspect Fireplace
Inspect Roofing for Damage
Power-Wash Windows & Siding
Touch Up Exterior Paint
Clean Out Gutters
Winterize Plumbing
Check for Cracks in Windows & Doors
Repair Exterior Siding
Repair Any Issues in Driveway or Walkways
Have Professional Inspect Forced-Air Heating
Drain & Store Exterior Hoses & Sprinklers
Insulate Outdoor Faucets
Check Water Heater for Leaks
Vacuum Lint from Dryer Vent
Check Major Home Appliances for Repairs
Winter Checklist
The winter elements can be a difficult and much of the recommended home maintenance is to stay on top of inspecting regular "pain points." It's also important to make sure you have any necessary cold weather tools in working order.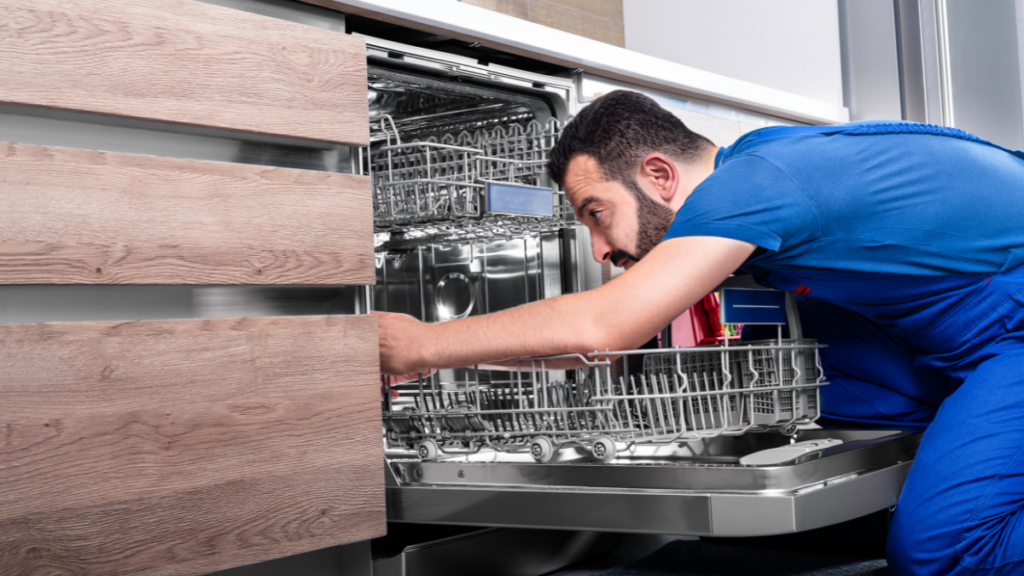 Check Ice Scraper for Cars
Prepare Shovel & Snow Blower
Get De-Icers for Driveway & Walkways
Prepare Supplies for Power-Outtage
Cover Air-Conditioning Unit
Clean Kitchen Drains
Clean Bathroom Drains
Inspect Gutters after Storms & Freeze
Check Basement & Craw Space for Leaks
Reverse Ceiling Fan
Seal Tile Grout
Check Bathroom Cabinets & Plumbing for Leaks
Check Kitchen Cabinets & Plumbing for Leaks
Clean Bathroom Exhaust Fan Grill
Inspect & Clean Refrigerator Coils & Drip Trays
Check Dishwasher for Leaks
Considering Your Own Checklist
As mentioned before, your home is your own and you know it best. Add or remove options that you feel may not fit best with your own needs. While considering what to add or take away, remember that the Spring and Fall are the best seasons to do maintenance that helps you prepare for the harsher weather in Summer and Winter. If you're looking for a place to keep up with your maintenance checklist, you may want to consider a Homeowner's Binder, which is a great way to organize all your home's essential information.